To me, orchids symbolize all that is exotic and bizarre in the natural world, and has done so pretty much since time began …or at least since we became obsessed with their sensuality and awesome eclectic weirdness. The boundary between stark madness* and unbridled devotion among the people in the orchid world is rather blurred, which makes life a bit more interesting. Hiking is a total immersion into nature where I can disconnect from stresses and obligations and just enjoy being alive for a while.
*Oh, don't believe me… read this. 
Some background
I was born in 1974 and I have liked orchids as long as I can remember even though I did not find the time to really grow them until my final years in college. I guess I have been a true enthusiast since 1998 or so. Moving back home to Sweden in 2007, after a decade and a half in Southern California and a few years in Seattle, I had to rebuild my collection from scratch and the passion quickly escalated to obsession, and once you get in this deep I am afraid there is no turning back. You see, I was able to import my 11-year-old cat without too much trouble, but I could not bring any of my orchids along since they lacked proper documentation. I simply had to start collecting all over again – admittedly much to my delight. It took a little adjusting going from near constant (and bright) light levels year-round and evenly warm temperatures to our cold dark climate. But it was nothing a little tenacity and good equipment couldn't solve. Now I could also finally keep some of the cooler growing genera I had been admiring for so long. During the first few years I made up a fine growing room in the guest room where I put up several shelves in the large turn of the century window to maximize the use of natural light in addition to the artificial lights. I also converted a few old terrariums to create special micro climates for the more demanding species, including a huge automated vivarium one for cool growers. Following a divorce I now live in a much smaller city apartment for most of the year. Growing space is really of a premium here, so I made the most of it by converting a small walk in closet to a high tech growing room, housing two more moderately sized vivariums in order to provide the climate zones I require since the huge vivarium simply would not fit any more. During the summer months (april/may to september or so) I live in a small cottage by the sea. Here I am privileged to have a greenhouse for all my plants so I tend to use the extra space growing seasonal edibles, such as chili pepper, paprika, tomatoes and cucumber alongside the orchids. More on my different growing spaces here.
I live in Gothenburg on the west coast of Sweden. As an art director, curiosity, form and function as well as problem solving comes natural to me, which comes in very handy when growing orchids the way I do. My time as the editor in chief and art director for the Swedish Orchid Society magazine "ORKIDÉER" (2010 to 2013) lead to many interesting meetings, virtual and not, and a few new orchid friends from all over the world. The rest of my orchid pedigree includs writing articles for the American Orchid Society ORCHID bulletin as well as holding lectures on orchid culture for a number of orchid societies and botanical institutions. But where I go to recharge is to the summer cottage by the coast just north of the Gothenburg archipelago. I grew up here in the summers. After decades of living abroad this is the one place on earth where I actually feel I have roots… feel connected. My father built the land with his own hands, and you can feel his pride and passion in every rock. It is also close to nature and my perennial garden there provide an additional oasis of serenity and peace. It is truly remarkable to follow the cycle of the seasons from rebirth to slumber each year. My sidekick and a constant source of joy and entertainment is of course the one and only Maine Coon princess, Nova.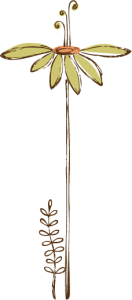 Finally, a silly bit of trivia. It was actually a teen infatuation that opened my eyes to orchids. Apparently (according to some teen magazine at the time) Morten Harket, the singer from the 80's pop band A-ha, liked orchids. He was exciting, orchids sounded exciting… and the rest, as they say, is history.
My favorite orchids
I have not singled out one specific genus to focus on like some growers do, but I have at least narrowed it down to a few areas of interest. My favorites are orchids of the Pleurothallidinae persuasion*. I particularly adore Masdevallia, Porrogrossum, Trisetella and Lepanthes at the moment, but I am constantly looking for more exciting genera to add to the collection. That is exactly why I built a very ambitious and huge cool vivarium to better accommodate them. My dream come true… a cloud forest in my Swedish apartment. I have since needed to downsize this monster of a vivarium somewhat, and now I try to keep mainly miniatures in order to make them all fit. I have to admit that I am also hopelessly infatuated by slipper orchids. A Paphiopedilum was the first orchid I ever fell in love with so this elegant genus will always remain close to my heart, with a few Phragmipedium and a newfound interest in Cypripedium mixed in as well. While we are on the subject I might as well disclose my love affair with Neofinetia as well. Nothing in the world smells nicer than these flowers so even though I don't grow them specifically for the scent, it is a very nice bonus to an already intriguing orchid. But still, I must say that my main focus is really on intermediate and cool growers from Central and South America and I am really looking forward to visiting all these places in person soon! First on the list, Costa Rica.
*The Pleurothallidinae are a neotropical subtribe of plants of the orchid family including 29 genera in more than 4000 species.
The hiking blog
The past few years have been challenging and has brought about many changes in my life. You know how it usually goes, one thing triggering the next, like dominoes. I am not going to dwell on it too much, and it sure could have been a lot worse. Suffice to say that I am no longer married and it culminated in the need for an extended break, a pause to reflect and above all ponder all the big questions in life.
All this turmoil has made me do a lot of soul searching. Having your entire body pull on the breaks and declare that it is time to stop and smell the roses also makes you reevaluate your priorities in life. The good thing about all this is that I believe that I have come out all for the better on the other side. A little older perhaps but ultimately stronger and a whole lot wiser. In a strange way I am grateful for it as I am much more aware and present now, dare I say a better person.
One huge step on this journey of finding my bearings again, has been a return to nature. It all started with this crazy idea to do a pilgrimage to the rainforests of Costa Rica looking for orchids. In preparing for this adventure I have had to gear up, and I have also had to get off the couch and get into shape a bit. While traversing the mountain out by the summer cottage I found a bunch of new trails I never knew existed, and in the process also started on a path to finding a center within myself again. Nature heals, they say. I think it is true, at least for me. My orchids and my garden has been great healers for me, but the force of nature has become an amplifier to this. It has been an amazing feeling, and I want more. A lot more! And of course I will share! Hence the addition of the hiking blog, and I hope you will enjoy coming along for the ride!
"Look deep into nature, and then you will understand everything better."
Albert Einstein